Event Detail
This event has already taken place! Please make sure you are in the correct year.
×
Back to Events
Music :: Western Swing also Music :: Jazz
Hot Club of Cowtown - Anaconda Live
7:30 PM
Washoe Theater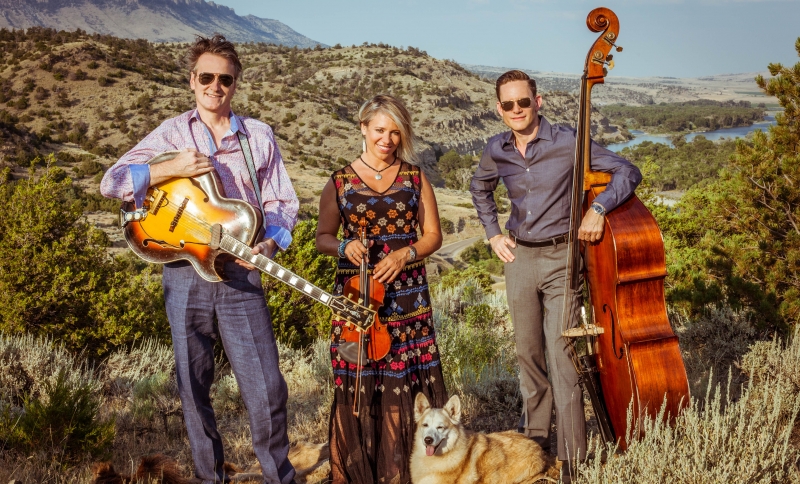 Click here to view image

Description:

Anaconda Live Presents 2017-18 Concert Season

The Hot Club of Cowtown is celebrating its 20th anniversary during the 2017-2018 touring season.
Since its beginnings in the late 1990s, the Hot Club of Cowtown's star has continued to rise as its reputation for jaw-dropping virtuosity and unforgettable live shows has become the band's global brand. Lauded for its "down-home melodies and exuberant improvisation" (The Times, London), the Hot Club has always woven a combination of seemingly disparate styles together to its own magical effect, setting up camp "at that crossroads where country meets jazz and chases the blues away" (The Independent), remaining "conscious always that above all else, the music is for dancing and an old-fashioned good time" (New York Times). The band's musical alchemy has been described as "another breathless journey in the Texas tardis" (The Times, London), while American Songwriter observed that "the excellent three players of this band could be doing anything but have chosen to honor the greats of jazz and swing with their sound." The Belfast Telegraph calls the Hot Club of Cowtown "a pretty much perfect country trio at the very top of their game," and the New York Times, in a live review the trio as armed with "an arsenal full of technique and joy."
Along with the Hot Club's dedicated cult following worldwide -- they have toured for the U.S. State Department as musical ambassadors to Azerbaijan, Armenia, Algeria, the Republic of Georgia and the Sultanate of Oman -- certain titans of the industry have also taken notice. Bob Dylan, with whom the band toured and with whom James has toured and recorded, is a continuing inspiration. The Hot Club has toured extensively worldwide as well as with favorite artists including Bob Dylan, Willie Nelson, Gatemouth Brown, the Avett Brothers, Dan Hicks, Bryan Ferry, Roxy Music, the Squirrell Nut Zippers, and many others. Career highlits have included the Glastonbury Festival, appearances on Later With Jools Holland, the Cambridge Folk Festival, the Glastonbury Festival and BBC Radio 2's Radcliffe and Maconie and Bob Harris Country shows, Mountain Stage, A Prairie Home Companion, the Fuji Rock Festival and Jazz at Lincoln Center in New York City.
EARLY YEARS & DISCOGRAPHY
In 1994 in New York City, Elana James placed an ad in the music section of the Village Voice looking to join a band, and Whit Smith answered it. Since then the music these two have made has always been a secret brew of energy, joie de vivre, and a respect for tradition that is often imitated but never equaled. By 1997, after founding a much larger Western swing orchestra in NYC, Elana and Whit pared back down to their essential elements and the duo that began as "Whit & Elana" grew -- with the addition of a bass player and a lot of optimism and naivete -- into Hot Club of Cowtown. The trio moved to Austin, Texas, and released its first album, Swingin' Stampede, in 1998 after signing with American roots label HighTone Records. Tall Tales (1999) and Dev'lish Mary (2000) soon followed, but it wasn't until 2001 that the band's lineup solidified with the arrival of bassist Jake Erwin, who cemented Hot Club's larger-than-life, earth-shaking rhythmic foundation.
Ghost Train (2002) showcased the band's shift toward original songwriting and Continental Stomp (2003) is a live testament to the thundering authority of the band in concert and proof positive that it remains one of roots music's most formidable touring acts. In 2008 American label Shout Factory released a 20-track Best of the Hot Club of Cowtown retrospective, followed by another critically-acclaimed album of largely original material, Wishful Thinking (2009). In 2011 the band released the first of a three-part series of albums dedicated exclusively to its roots: What Makes Bob Holler arrived in 2011, a rollicking assortment of Western swing standards made famous by Bob Wills and his Texas Playboys; Rendezvous in Rhythm was released in 2013, an inspired collection of American Songbook standards and Gypsy-influenced hot jazz in the style of Django Reinhardt and Stephane Grappelli; and to close out the series, Midnight on the trail, a collection of re-imagined cowboy ballads, traditional Western swing, and songs by Gene Autry, Cindy Walker, Johnny Mercer, Bob Wills, Tommy Duncan, and others, was released in 2016. An album to celebrate the band's 20th anniversary in 2017-2018 is currently in the works, so stay tuned!
AWARDS & HONORS
Ameripolitan Music Awards, winner, Western Swing Group of the Year (2015)
Ameripolitan Music Awards, winner, (Elana James) Western Swing Female of the Year (2015)
Texas Western Swing Hall of Fame (Inducted in 2004)
Western Music Association's Crescendo Award (2002)
True West Magazine's Best of the West Awards, Best Music Group Best Music Group (2012)
Village Voice's Pazz & Jop Poll (2012)
Ameripolitan Music Awards, nominated, Western Swing Group of the Year (2014)
Ameripolitan Music Awards, (Elana James) nominated, Western Swing Female of the Year (2014)
Roots Music Reports names "What Makes Bob Holler" a worldwide Top 20 Roots Country Album (2011)
ALBUMS
MIDNIGHT ON THE TRAIL (Gold Strike) 2016, Produced by the Hot Club of Cowtown
RENDEZVOUS IN RHYTHM (Gold Strike) 2013, Produced by Lloyd Maines
WHAT MAKES BOB HOLLER (Proper) 2011, Produced by the Hot Club of Cowtown
WISHFUL THINKING (Gold Strike) 2009, Produced by Hot Club of Cowtown & Mark Hallman
THE BEST OF THE HOT CLUB OF COWTOWN (Shout!Factory) 2008
FOUR DEAD BATTERIES SOUNDTRACK (HighTone) 2005
CONTINENTAL STOMP (HighTone) 2003, Produced by Lloyd Maines
GHOST TRAIN (HighTone) 2002, Produced by Gurf Morlix
HOT JAZZ (Buffalo) 2002 (Japan only)
HOT WESTERN (Buffalo) 2002 (Japan only)
DEV'LISH MARY (HighTone) 2000, Produced by Lloyd Maines
TALL TALES (HighTone) 1999, Produced by Dave Stuckey
SWINGIN' STAMPEDE (HighTone) 1998, Produced by the Hot Club of Cowtown
TELEVISION & FILM
Later With Jools Holland and the Jools Holland New Year's Eve Hootenanny (UK), $40 a Day with Rachael Ray (US), the Grand Ol' Opry Live (US), Good Morning Azerbaijan (AZ), BBC Live From Glastonbury broadcast (UK), Larry's Country Diner (US), and the Texas Music Cafe.
Songs in film and on soundtracks: Four Dead Batteries, In Search of a Midnight Kiss
RADIO
Mountain Stage, Etown, World Cafe, A Prairie Home Companion, All Things Considered, FOX News Radio, Morning Edition, Sirius Satellite, XM Satellite, ABC live (Australia), BBC live (UK)
PERFORMANCE HIGHLIGHTS
Midsummer Night's Swing at Lincoln Center, Cambridge Folk Festival, Glastonbury Festival, Fuji Rock Festival, Byron Bay Blues and Roots Festival, National Folk Festival (US and AU), Stagecoach Festival, Winnipeg Folk Festival, Waiting for Waits Festival (SP), Country Music Hall of Fame, Nashville, TN, Barns at Wolftrap, Rochester Jazz Festival, Strawberry Festival, Jazz at Lincon Center, US State Department Musical Ambassadors to Azerbaijan, Armenia, Georgia, and Oman, Texas Western Swing Hall of Fame (inducted 2004), tours with Bob Dylan, Willie Nelson, the Mavericks, Roxy Music, the Avett Brothers, Bryan Ferry, Gatenouth Brown, the Squirrel Nut Zippers.
QUOTES
"This trio's stylistic genesis-as well as title-stems from the realization that the great heritage of strings (guitars and violins) originates mutually with the Manouche gypsies of France and the no-less virtuosic hillbilly pickers and fiddlers of Oklahoma and Texas....Together for over 15 years and a dozen albums, the threesome of high-heeled violinist Elana James, guitarist Whit Smith and bassist Jake Erwin showed from the beginning that jazz and country music could exist together on the same page, a highly commendable achievement if ever there was one."
-Will Friedwald, Wall Street Journal
"The timing, swing, and the chemistry of these three virtuoso musicians...is a joy to behold"
-Guitarist
"[Elana's voice] just flows with 1930s wonderment, it has an underlying sexiness that draws the listeners in until each and every one is caught in her musical spell..."
-David Knowles, Maverick Magazine
"The hot jazz is what Hot Club do best, and this is a ...band I once said I could listen to forever. That still stands."
-Duncan Warwick, Country Music People
"Unfussy and unpretentious, their blend of down-home melodies and exuberant improvisation harks back to a lost era of so-called western swing. When they plunge into Orange Blossom Special your thoughts turn not so much to runaway trains as to a B-52 tearing up a runway."
-Clive Davis, The Times (London)
"One of the finest performances by a visiting American country act I've witnessed for a very long time... they pretty much lifted the roof [off of the Black Box in Belfast] a couple of months back...a pretty much perfect country trio at the very top of their game."
-Ralph McLean, The Belfast Telegraph
"Perhaps the first thing one notices when listening to the Hot Club of Cowtown is its lack of irony, self-consciousness and forced hipness in embracing a style of music that so easily lends itself to such things...Stylistically, the band steps out from the shadow of its influences to become more than a faithful retro band that likes to raise its tempo every now and then. It's writing more of its own songs and varying its delivery... conscious always that above all else, the music is for dancing and an old-fashioned good time."
-Neil Strauss, New York Times
"...Spirit, originality and skill that would surely have impressed Stephane Grappelli and Django Reinhardt back in the 1930s."
-Robin Denselow, the Guardian (London)
"Cynics could say that they play hick-jumping with jazz sophistication, or jazz sweetness with hoedown grit. Either way, they scoop off the best parts of both styles, and are a supremely entertaining combo."
-Martin Longley, Coventry Telegraph (UK)
"This Austin-based western swing/jazz trio-violin, guitar and upright bass -will bring even the tamest audience to its feet. Plus, instrument aficionados will drool over the 1925 Gibson acoustic, 1937 Gibson amp and all the other classic gear that helps to keep Cowtown hot and hoppin'."
-Chicago Tribune
"Would that any night of hot jazz and western swing could be as satisfyingly entertaining as this minimally outfitted (there are but three of them) party band par excellence.
-Bernard Zuel, Sydney Morning Herald (Australia)
"Austin trio Hot Club Of Cowtown sounds like it's spent the last 40 years in tiny rural clubs. The group's old-fashioned mixture of Western swing and hot jazz leaves all the irony at home, and what's left is a refreshingly sweet-natured, accomplished, old-school treat, mixing the perky rhythms of swing masters like Bob Wills with the European gypsy music of Django Reinhardt and Stephane Grappelli."
-The Onion
"The young band distinguishes itself by its technical musicianship and vast acreage of diverse styles alone, but it seals the deal on stage, subtly and methodically casting aside the audience's daily worries and levitating the room into a dreamy salon of carefree abandon. Even the heartbreak songs are served sunny-side up."
-Derek Raymaker, Toronto Globe & Mail
"I doubt that many rock bands expend more energy in their playing, but what I admire most here is the unified point of view: a nostalgic love of western swing, big-band crooning, ragtime, even jazz improvisation."
-Marc Mickelson, Soundstage.com
"Smith's fretwork conjures up Reinhardt's energetic stint with Duke Ellington, while [James] exudes pure countrified fiddle goodness."
-David Lynch, Austin Chronicle
"Working in such tradition, the Hot Club of Cowtown can burn, playing fast and furious driving rhythms at break-neck pace, and the wild abandon of Whit's fleet-fingered solos improvised over dangerous changes can leave a listener slack-jawed and winded."
-Baker Rorick, Guitar Magazine
"Their sly mix of hot licks and cool vocals remains equally driven by the twang of Texas roadhouses as the gypsy string jazz of Reinhardt and Grappelli."
-Eli Messenger, Country Standard Time
"...Infusing classic pop and jazz tunes with plenty of string-band verve."
-Mike Joyce, Washington Post
"If rosin were flammable, violinist Elana [James] would be charged with arson."
-ink19.com
"While its repertoire and style draw from classic western swing and hot violin/guitar jazz of the Parisian 1930s and '40s, it's one of the most original groups on the Americana circuit, deserving of attention both live and on record."
-Craig Havighurst, Nashville Tennessean

$40 Memberships for 2017-2018 concert series will be available at the door..includes all 4 concerts in the series plus 4 more in Dillon.
Advertisement
Age Group: All Ages

Venue:
Washoe Theater
Visit Website
Visit Venue Page
Address:
305 Main St Anaconda, MT - Montana 59711
Get Directions
Phone: 4065636161